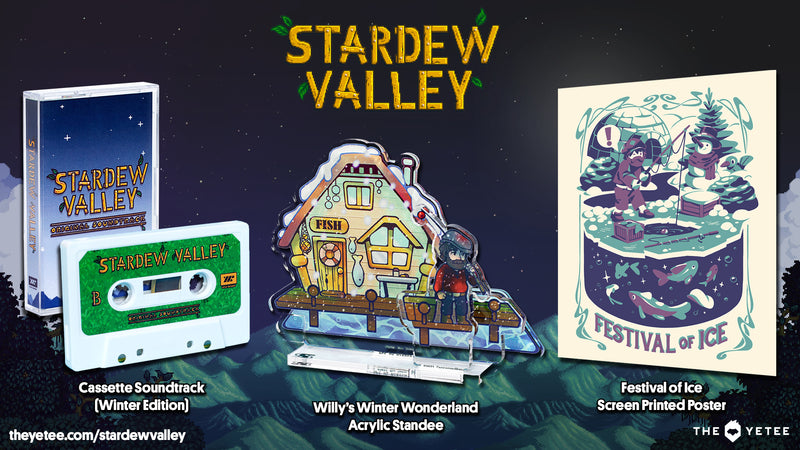 Hitch a ride down to the tranquil world of Stardew Valley with our brand-new wave of Winter Season merch in partnership with ConcernedApe! We've heard there's some wild fish to collect this time of year, so hook up with your pal Willy and net that big one with a brand-new screen-printed poster and acrylic standee, or kill the time with a brand-new printing of the incredible Stardew Valley soundtrack on a white shell for the perfect winter getaway! The cassette and standee won't be around for long so be sure to snag 'em before the winter season ends and the thaw begins in February 2022. Oh, and be sure to pack some bait and a proper pole!
Head on down to the docks and reel in some monster catches with this Secret Stage acrylic standee designed by Mikoto Tsuki. When the cool winter air bites so do the fish!
Celebrate the Festival of Ice proper with this lovely 18" x 24" screen printed poster designed by Ilustrata! Fish aren't the only trophies you can display on a wall!
Stardew Valley OST Cassette (Winter)
Bring home the tranquil and soothing sounds of Stardew Valley with this high-quality cassette featuring artwork by Byron B. and mastered for optimal analog playback by Marc Junker (aka R23X). For when you need to kick back with some tape!